— English version below —
En raison de la situation particulière en ce semestre le local du Musical s'adapte aux règles sanitaires.
Comme dans le reste de l'EPFL le port du masque est obligatoire dans le local et il faut se désinfecter les mains en entrant dans le local (Deux stations seront mise à disposition à l'entrée du local ainsi que à l'intérieur). Et pour finir, le nombre de personnes maximum dans le local est fixé à 7 pour ce semestre (grand maximum qui semble possible tout en gardant des distances).
Lorsque vous entrez dans le local vous trouverez ce lecteur :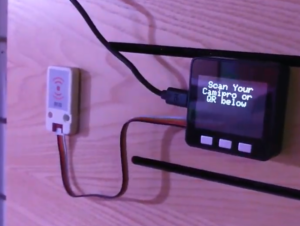 Ainsi que une feuille avec deux QR codes :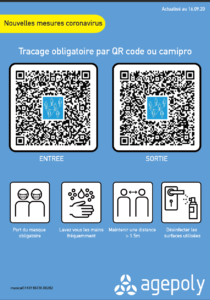 Lorsque vous entrez (Pour tous les membres, pas seulement ceux qui ont les accès):
Si vous avez une carte camipro vous devez passer votre carte sur le lecteur, qui vous affichera votre nom. Si vous avez un doute, voici deux vidéos du système en action :

Si vous n'avez pas de camipro vous devez utiliser les deux QR codes pour le traçage, un liens pour quand vous entrez dans le local et un lien pour quand vous partez.
Nous avons choisi ce système afin d'avoir de meilleurs informations en cas d'infection, en effet si on devait se fier aux réservations nous devrions toujours partir du principe que tous les membres du groupe étaient présents. De plus en cas de petit oubli d'affaires ou autres nous pouvons aussi traquer dans ce cas !
— Version française au-dessus —
As per the unusual situation this semester the Musical rehearsal room is adapting its rules for the safety of the members.
Like all EPFL facilities, you have to wear a mask and sanitize your hands when entering the room (Two places will be made available for that both at the entry of the room and inside the room). And finally the maximum amount of people in the room at one time will be 7, as we figure this is the maximum amount of people we can fit in there while still respecting distances.
When you enter the room you'll find this reader :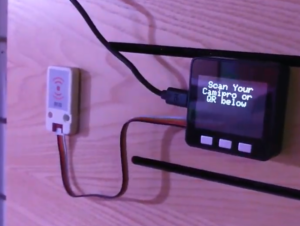 As well as these QR codes :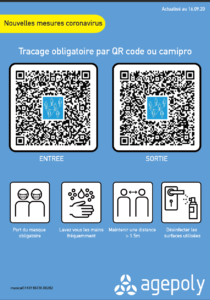 When entering you'll have two options :
If you have a camipro card you have to scan it on the reader, it will display your name. If you have a doubt on how it should work, here are two videos, entering and leaving the room :

If you don't, then you have the two QR codes for tracing, one of the link is for when you enter the room and another one for when you leave
This option gives us more accurate data about who in the band was present, otherwise we'd have to assume everyone was always here. This is important in the event of contaminiations.